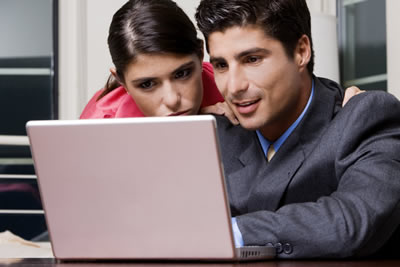 So, you've already determined your copy (the written part of any marketing material) is the secret to sales success. Now, let's take it a step further.
Do you know what people read first - practically EVERYTIME they read your copy?
It's your headline. Studies have shown that your headline is the single most important part of any of your marketing, advertising and promotional materials. Think of it as your welcome mat, the tidbit you throw out there to entice people to want more.
Here are two quick examples:
A) Would you like to earn more money?
Chances are this question piqued your interest if you're motivated by money.
B) How to make the world a better place in 5 easy, proven steps.
If you're conscious entrepreneur, this may have piqued your interest.
These headlines could actually both use some more sizzle, but do you see where I'm going with this? You not only have to pique interest, you need to know who you're talking to and what motivates them or your readers won't take the next step - and in the case of copy - that's moving on to read your offer and the ultimately purchasing your product or service.
Headlines should illustrate an immediate result, solution or benefit and leave your audience wanting more. In fact, you headline should stand alone - make a statement of its own and lead your audience into the content. Create headlines to draw your audience in and then keep their interest with strong sales copy.
How strong are your headlines? Do they draw your readers in and leave them wanting more? Review your current copy with a fresh eye. Are your headlines working for you?
Lisa Manyon is the President of Write On ~ Creative Writing Services, LLC. and a Professional Copywriter and Marketing Strategist specializing in POWERFULLY communicating your marketing message to increase results. She's a published author and is a featured in the International Association of Web Entrepreneurs Official AWE Guide to Emerging Trends Every Online Entrepreneur Must Know and has written promotional, advertising and marketing copy for internet gurus and a wide variety of brick and mortar businesses. She's completed Glazer Kennedy's Creating Copy that Sells certification and is a Copy Coach for Lorrie Morgan Ferrero's She Factor Copywriting Bootcamp. Manyon  offers a free
Copywriting Action Plan with 7 Power-packed Insider Tricks of the Copywriting Trade to Dramatically Increase Sales of your Products & Services
on her website at
www.LisaManyon.com
What makes your group coaching program unique? No, it's not price. And you need to think again if it's quality.
It's really YOU. And that's exactly what the media look for.
Think about it for a moment. Reporters don't really cover stories about group coaching - or any product or service for that matter. Journalists write about the people behind the group coaching program. That is, they cover  experts.
That's just one of the reasons why you need to position yourself as the authority in your field.
After all, people want to do business with someone they trust. And who better than an expert?
Experts are sought after, get more business with less effort, and command higher fees. They also possess credibility that makes selling themselves easier.
Follow these tips to become the recognized expert:
1. Find your expertise – and use it in all your marketing. Think of topics that relate to what you do. If you are a group coach specializing in married relationships, you can be the 'marriage relationship expert.' If you are marketing group coach, start calling yourself the 'marketing mentor.' Then once you find a title that fits, use it all the time – on business cards, your website, postcards, etc.
2. Write articles. There's no better way to get know as an expert than to write and publish articles about your expertise. Think of at least twelve topics, do the research and get writing. Most articles are no more than 500 words. Use lists and bullets to help keep it short. And don't forget to include a resource box.
3. Be available to the media to comment on your topic of expertise. Let reporters covering your beat know you are an expert and available to comment on your field. Also, jump on a breaking story that involves your expertise. For example, if you're a group coach specializing in time management and there a story about a how helicopter parents- and their kids are over stressed, pitch a story about how to keep families from losing it completely.
4. Speak on your topic. Come up with a great presentation that gives useful tips and find local places to offer to speak for free. A parent coach could give tips on ways stop dinner time battles. Once you get several of these under your belt, start looking for regional and national venues to speak.
5. Blog. Blogging is a great way to comment on your expertise while rising the ranks of the Internet. Look for news stories that relate to your topic; then offer your opinion about the story on your blog.
Trust me, journalists are searching blogs for experts. That's how I got featured in Entrepreneur magazine a few years back.
______________________________
Shannon Cherry is the publicity/media expert for Group Mastery. Known as The Power Publicist, she helps coaches, entrepreneurs, consultants and solo professionals attract more clients and customers through the power of publicity.